Covid – 19 Guidelines & Updates
Dear Guests,
Kindly note that our hotel is in full compliance with coronavirus-related health guidelines imposed by the Greek authorities and Ministry of tourism. Please check below our general terms for guests, employees and hotel facilities in regards to cleaning and safety protocols:
• Modifications of check – in (15:00p.m.) and check – out (11:00a.m.) hours due to thorough cleaning and disinfection. Our reception will also have flexible operation depending on daily arrivals. Therefore, is strongly advised to inform us in advance for the arrival time.
A hotel entrance code is provided few days prior of your arrival for entering and checking-in after hotel operation hours.
• Guest accommodation is disinfected between stays and/or is naturally ventilated for at least 24hours between guests' stay.
• Housekeeping service is not daily anymore and it's upon request. Therefore, if you please need housekeeping service make sure to inform our reception 1 day earlier. The same applies for the change of towels and linens.
• Housekeeping employees have appropriate dress cleaning code following the health guidelines. While reception employees need to ware a musk, it's strongly also advised to guests entering the hotel.
• Screen placed between staff and guest in appropriate areas.
• Guests & Employees will be advised for physical distancing at least 1.5m away while standing at reception, corridors or other hotel areas.
• Hand sanitizer dispensers and hygiene signage reminders have been placed in all our rooms and reception areas.
• All hotel areas are open constantly for air circulation. Room and lobby furniture and amenities have been re arranged or removed.
• Single room air conditioning for guest accommodation.
• Linens, towels and laundry washed in accordance with local authorities and in high temperatures.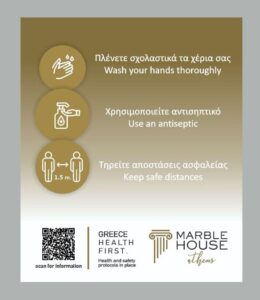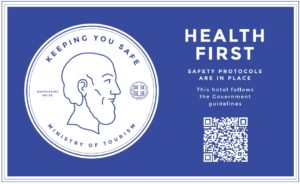 Choose Marble House for your stay in Athens!
Unique & high quality services, warm hospitality and instant
service create the foundation of Marble House in Athens.